Created by passionate steakhouse lovers,
The Finishing Gourmet brings the restaurant experience to your home
THE CHALLENGE:
The Finishing Gourmet needed a website they had control over and the ability to manage their own content. They also required an option for booking and reserving orders through their own site, without the end-user having to go to a 3rd-party website.
GOALS:
The main objective was to migrate the existing site onto the WordPress platform quickly and allow the client to use there own website to manage online orders. We redesigned the site to add more depth to the site while keeping the navigation straightforward.
The Finishing Gourmet has well-established branding that we highlighted with stunning photos of their entrees. The new web design built out their brand story and developed the user experience and functionality.
OBJECTIVES:
Simplify website
Build a better user experience
Manage reservations and orders
Implement a solution backed by WordPress CMS
Improve site architecture for easier browsing and rich user experience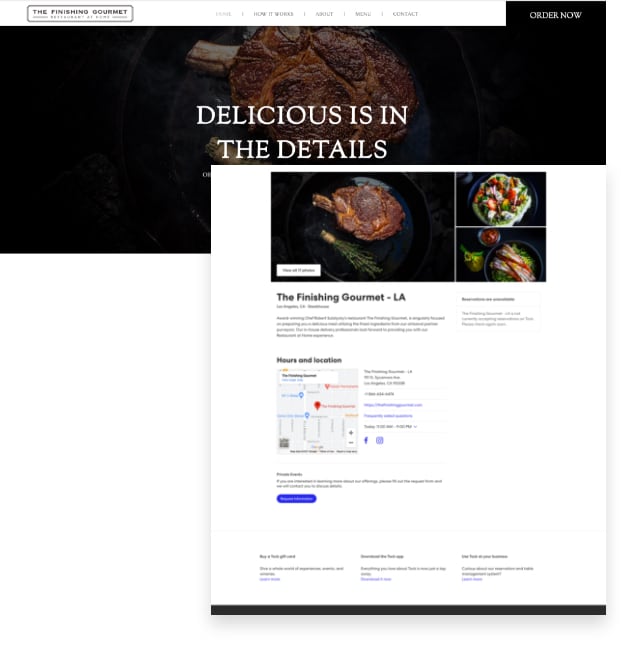 THE APPROACH:
This web design was driven by content strategy. We wanted to provide more opportunities for visitors to get to know The Finishing Gourmet. Our goal was to combine a smooth exploration experience with enhanced brand storytelling that highlights their passion for fine dining.
THE PROCESS:
Client Research

Site Audit

Site Map and User Flow

Wireframes

Design Mockups

Dev Research

Development
The Finishing Gourmet website now has a mobile-friendly, online-driven user experience where visitors are quickly offered their services, current menus, and hours. We created a clean, modern design with a clear visual story, highlighting the client's photos.
Using a custom theme builder, their new site is quick and robust, with an integrated online ordering system that ties into the website's menu.
INFORMATION ARCHITECTURE
CONTENT STRATEGY
UX & PROTOTYPING
WEBSITE DESIGN
CUSTOM WORDPRESS DEVELOPMENT
Talk to us. We'll help you find the right solution for your business.
Stuck with your site or analytics? Let us take a look.